In November, i spent about a week up on the Colorado Plateau, winding my way up the Grand Staircase and spending not nearly enough time at f i v e ! of the National Parks in Utah's share of the region. I've always been a sucker for red rock country. It probably helps that i was exposed to Lake Mead starting at just 18 months old. I've been lucky enough to travel many places, but i have yet to find anywhere else that, pardon my purple prose, alight my being and fill my soul with urgency and meaning. I read somewhere that "the function of music is to release us from the tyranny of conscious thought." (Sir Thomas Beecham apparently) For me the outdoors, and the National Parks like Zion and Capitol Reef and the Grand Canyon in particular, are like good music on steroids.
Which basically translates to me constantly cursing both under my breath and quite loud:
OH MY, THIS IS F—ING GORGEOUS!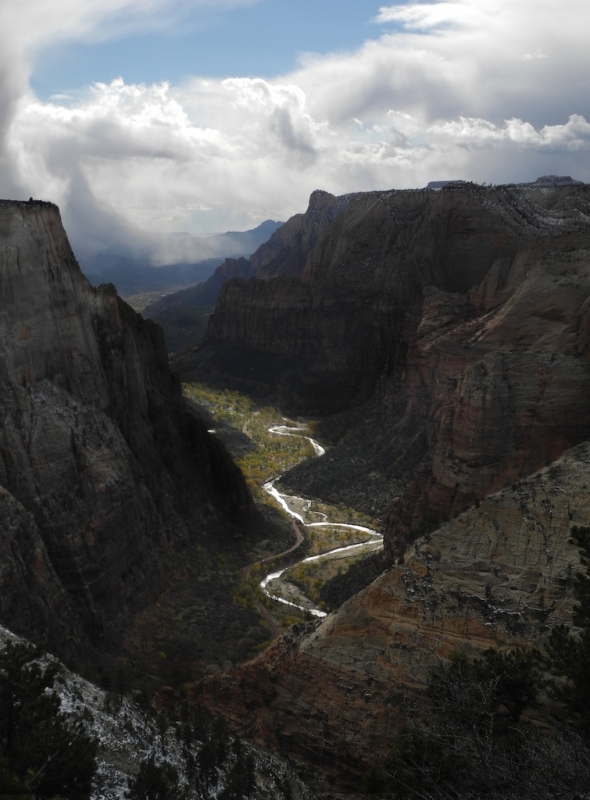 It had been two yeas since i had been to Zion. I had planned on going both those missed Novembers like i had in years previous, but put simply, life got in the way. I love going in the late fall. The weather is wonderfully chilly. The park is quiet, but not deserted (though less quiet than it used to be. This must be what getting old feels like.). And the whole park is dressed in these amazing colors. That and i'm a sucker for the American flags the towns of Springdale and Rockville put out to celebrate Veterans Day.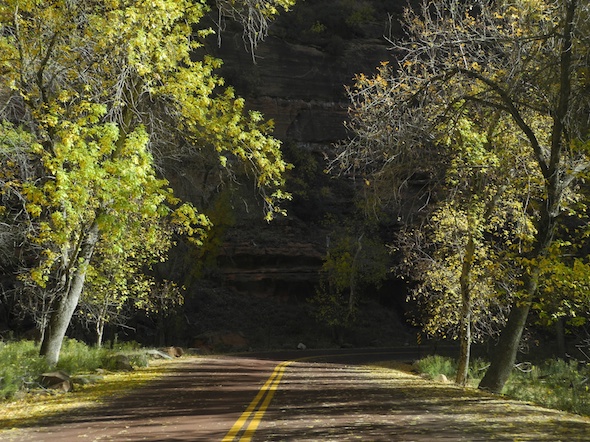 I love to draw in the park, but tend to take more photographs. My impatience and want to hit all five parks during my limited time were the primary factors in this. Another was the less than dry weather while i was in Zion. I don't mind being out in the cold. In general i'm with the Scandinavians in the thinking that there's no such thing as bad weather, just bad clothes. That written, trying to draw in the rain is problematic. Paper + water = mush. Und das ist nicht so gut. So on that rainy Friday, instead of hiking and drawing, i was driving and drawing. Each of these little sketches took me about 20 minutes. 20 minutes also is the time it would take for my warm dry car's windows to start to steam up. Perfect timing to turn the engine back on and find a new spot. I have photos to supplement these quickies and hope to utilize the resources together to create larger pieces.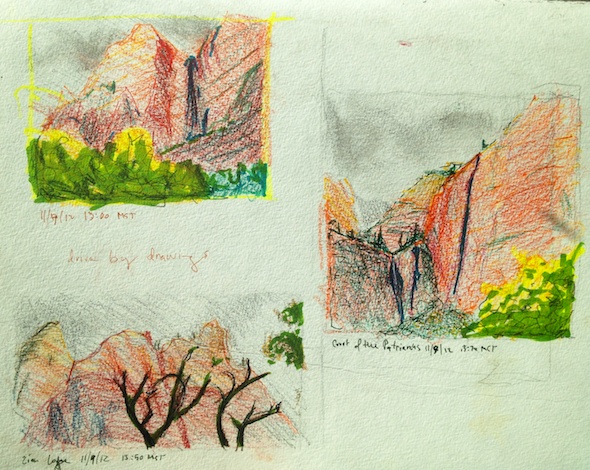 And without and any further drivel from me, the Zion, the beautiful:
More on my misadventures in Utah later.